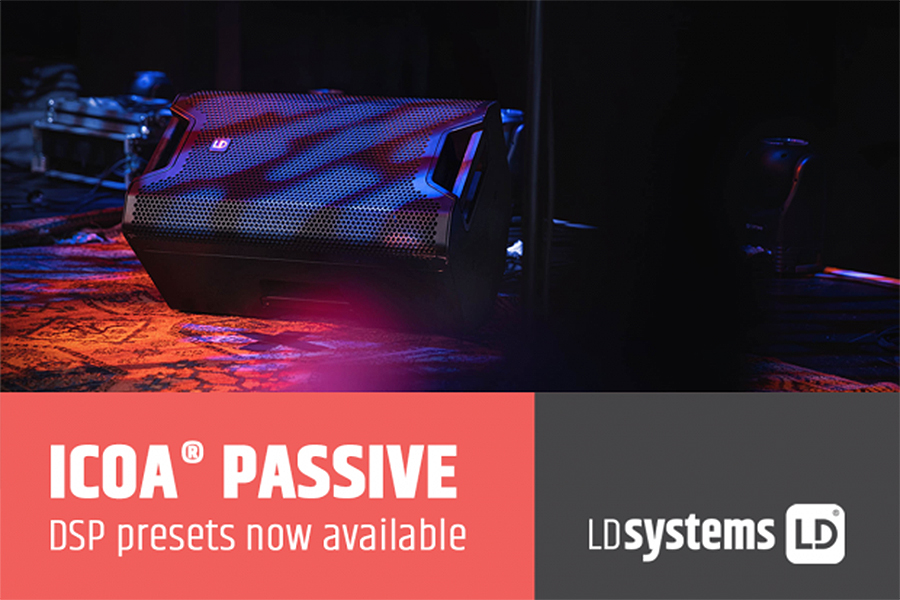 ICOA® presets available now for the LD Systems DSP 44/45 K power amplifiers
Since their market launch in 2020, the coaxial full-range loudspeakers in the LD Systems ICOA® Series have become firmly established in the PA portfolios of musicians, bands and DJs. Now, with the addition of DSP presets for the passive ICOA 12" and 15" versions for the DSP 44/45 K power amplifiers from LD Systems, these PA all-rounders can be used even more flexibly.
With its combination of coaxial design, rotatable, BEM-optimised CD horn – for optional use as a PA loudspeaker or floor monitor – as well as various other functions, the ICOA Series is a true all-rounder for live applications. For permanently installed applications, the passive ICOA models are also available in white. They can be mounted on walls vertically or horizontally using a specially developed wall bracket featuring the Easy-Click connection system and clean cable routing.
The passive PA coaxial speakers in the ICOA Series are available in two versions: the ICOA 12 and ICOA 15, featuring 12" and 15" woofers respectively. Thanks to their excellent bass response, the ICOA full-range speakers are not just suitable for musicians and bands, but also for dance schools or mobile DJs who want to do without a heavy, unwieldy subwoofer.
The ICOA presets for the LD Systems DSP 44 K and DSP 45 K power amplifiers are now available for Download ICOA Presets.
The downloads are available on the product page of each respective ICOA model at:
ld-systems.com/icoa
In addition to these presets, which are specially adapted to the LD Systems DSP Series, a PDF with all the relevant technical data for use with DSP power amplifiers from other manufacturers can also be found here.
Further information:
ld-systems.com
adamhall.com
event.tech